---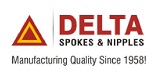 Buchanan's has partnered with Delta to offer you their light duty 12 gauge spokes and nipples.
They are perfect for your Scooter or Moped rebuilds and restorations, or Electric Bicycle projects.
We purchase the spokes in blank form, and complete the manufacturing process by cutting, bending, and
threading them to fit your application.  Both, the parts and labor to build your wheel, are available at a great price.