About Buchanan's Spoke & Rim, Inc
---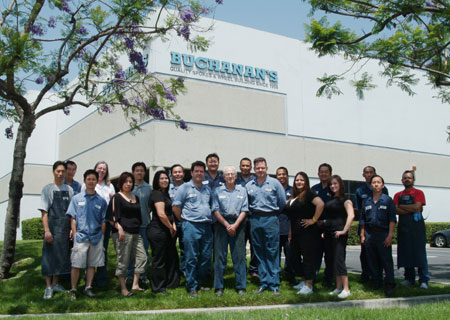 Kennie, Jim and Robert Buchanan with Buchanan's dedicated employees in 2007.

Buchanan's Frame Shop was founded by Jim Buchanan in 1958.  In its first decade of operation, Buchanan's offered motorcycle frame and wheel repair.  Originally, spokes and nipples were purchased from outside suppliers for in house needs.  A large supply of blank (un-drilled) aluminum rims were kept on hand.  This enabled Buchanan's to quickly supply its customers with accurately drilled patterns for both stock and custom wheel assemblies.
 
Buchanan's began manufacturing its own line of spokes in 1971 to supply its growing wheel repair service.  By 1975, advances in our manufacturing ability allowed Buchanan's to sell pre-packaged spoke kits to other wheel repair shops.  In 1987, Buchanan's began manufacturing Sun Rims.  The versatility of these rims' unique non-dimpled construction was maximized by Buchanan's custom built drilling machine.
 
Buchanan's discontinued its frame straightening services in 1987.  This decision was necessary to accommodate the increasing demand for spokes, rims and finished wheel assemblies for both motorcycles and cars.
 
Now known as Buchanan's Spoke & Rim, Inc., we moved into the 21st Century as a second generation family business.  We are committed to focusing our skills and experience to deliver to our customers, quality products and services that live up to our reputation.
 
We thank you for your patronage.
 Jim and Vernice Buchanan

Carpinteria, CA - 1954 

 

 

 IN LOVING MEMORY

JIM BUCHANAN

1927 - 2021